Let customers speak for us
Amazing!!!
Warning! This stuff is addictive!
Amazing!
Wow! My family LOVES this marinade. I bought it at the Dallas Farmers market. I used it and then immediately went online and ordered more! Highly recommend
Best marinade we have ever used!
Portuguese BBQ Marinade Dry Mix (2 Pack)
Great Product
Easy to use and great products
Absolutely The Best Marinade!
I marinated my chicken for grilling and it was a hit! Every thoroughly enjoyed the chicken. It was delicious. I'm so excited that I finally found a marinade that is amazing! Thank you!
Delightful
My wife and I discovered Rika's on our trip to Dallas. Our sone, who was showing us around the Dallas area, took us to the Dallas Farmers Market. We stopped by and tasted the chicken and shrimp that they had out to taste. We ended up buying a jar of the Medium spicy. When we got home we prepared as instructed (super easy, just marinate for 30 min. it came out fantastic! We since have ordered at least 3 times on their site. We love this stuff! Used it again last night to make chicken tacos....SO GOOD! I recomend everyone to try it! its our new fav.
Best marinade I have ever used.
We discovered Rika's marinade while shopping at Dallas Farmers Market. We tried one and took it home to make grilled chicken that night with our four boys. I marinaded the chicken breasts about four hours before grilling. Everyone thought it was the best chicken marinade we had ever had! Since then, I have used it one pork tenderloin and beef tenderloin and our boys said it is by far the best marinade I have ever used. We like it spicy so we get the spicy variety. We started using it so much that I have now ordered the gallon size. Everyone whom I have shared this with our now fans. Can't emphasize how good this marinade is.
Wonderful flavors! I marinated a pork tenderloin with this and slow cooked it in a crock pot. The meat was tender and full of flavor. Also marinated chicken wings and they were a hit.
Versatile
This marinade is so versatile. . I made 4 cheese Mac and Cheese from scratch and mixed in Chicken breast that was marinated for only 20 minutes and it changed the whole flavor profile. Also, made a Chicken Stuffed roulade with a chicken breast that was also only marinated for 20 minutes and it came out perfect! Love how so much flavor is added to dishes in so little time. Saves me time from having to wait a hour or more. I can prepare the side dishes or other components to my dish while protein marinates and then have it ready in 40 minutes or less! Keeping a bottle around. Great for grilling. Definitely going to have a extra bottle for camping trips.
Mouth watering ribs
If you're a fan of barbecue ribs, then you absolutely must try this chicken marinade on them! I recently tried it on a rack of ribs and I was blown away by how delicious they turned out.
The marinade gave the ribs a beautiful golden color and a rich, smoky flavor that perfectly complemented the juicy meat. It also had just the right amount of sweetness to balance out the savory notes, making for a truly delectable experience.
What I loved most about this marinade was how easy it was to use. I simply marinated the ribs for a few hours before grilling them up, and the result was a mouth-watering, fall-off-the-bone tenderness that had my taste buds singing with joy.
Overall, I highly recommend trying this chicken marinade on your barbecue ribs. It's a game-changer that will take your ribs to the next level and have your friends and family begging for the recipe. Don't hesitate, give it a try today!
Spicy Portuguese marinated
Best marinade I have ever tasted
Obsessed with this product!!
I bought this product (original bbq marinade) at the farmers market in Dallas after trying a small sample. Little did I know then I'd become obsessed with this marinade! I marinated some chicken breast in it for about 24 hours, popped them in the air fryer and it was one of my favorite meals I've ever made!! I cook a decent amount and I was so amazed with how much complex flavor there was in the chicken! So much savory flavor with the perfect kick at the end. I ate it just by itself for a few days then made chicken sandwiches out of them. I'm not kidding when I say I've dreamed about this stuff! It's that good! It's so incredibly easy to make with anything. I'm buying more so I can use it on more chicken but also try shrimp and veggies too. I'm so excited! Thank you for creating this product! At my next gathering I plan to cook with it and impress all of my friends so hopefully you'll be getting some more orders in from them too!
Best Marinade
This is the only Marinade I use now. Have tried it on Chicken, Pork , lamb, veggies and fries
It's great on all. And now they have spicy one . That's even better for me.
I put this on everything I eat.

How to prepare, marinate and grill using our product
Our Products
Thank you for visiting Rika's Marinade. Please take a look at our line of products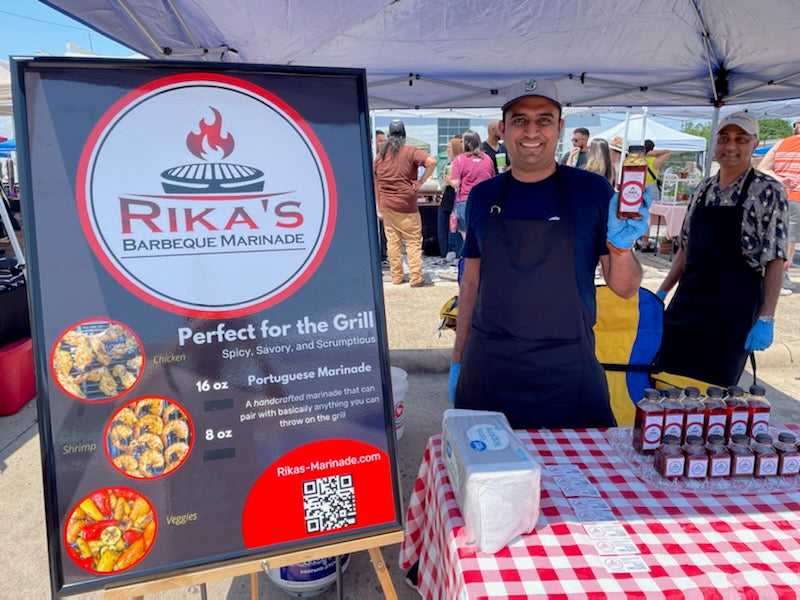 Come visit us at a farmer's market!
Rika's Marinade attends farmer's markets in Richardson, Garland, and Plano.
Come on through for some free samples of chicken marinated with our Portuguese BBQ Marinade.
We will also have bottles of the marinade for sale.
To find out where we will be next, check out our Events page!
Events
Choosing a selection results in a full page refresh.